Adaptation Solutions for People with Limited Mobility
Published June 28, 2020
/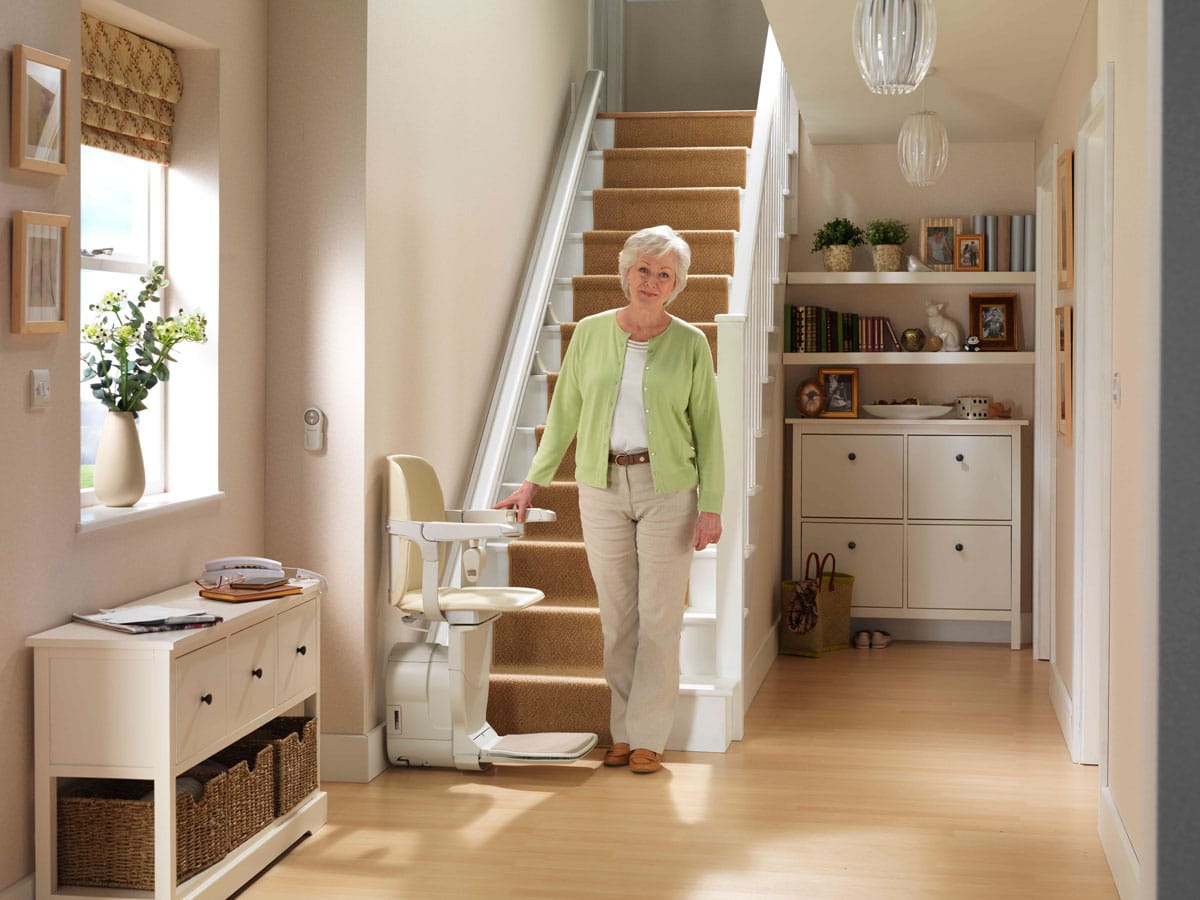 These days, everything is within reach. Information is at the tip of our fingers, and all you need to do is hop in your car to go to the grocery store. But what about all the people, whether they are elderly or disabled, for whom going up the stairs is like climbing Mount Everest or for whom opening the door is quite the challenge. Are there adapted solutions, capable of making these areas of difficult access more accessible?
There are many existing solutions for better inclusion of people with reduced mobility. All you need to do is build awareness of universal accessibility and of the importance of implanting these tools in shops, public places, houses, and apartments.
Stairlift
The stairlift, or man lift, is a simple solution to make stairs more accessible to people with reduced mobility. As it helps to prevent falls, this chair is appreciated by the elderly population.
These chairs are available for both residential and commercial fields and can be installed on straight or curved staircases.
Lifting Platform
The lifting platform is ideal for people in wheelchairs. Available for both residential and commercial fields, they are easy to use and take up little space.
Exterior platforms are made specifically to resist Quebec's climate, whatever the time of year. When it comes to interior platforms, there is a model that can be fixed to the staircase and can be folded up to maximize the space. There is even a mobile model, which can be rented, to help temporarily handicapped people following an accident or surgery.
Elevator
The elevator is the ultimate help to inclusion, as it grants access to the entirety of the levels in a building. Designed for residential and commercial buildings, elevators are a long-term solution and are used by everyone.
Automatic Door
The automatic door facilitates access to your house or your store. Appreciated by all, it is cheap and available for residential as much as for commercial purposes.
Patient Lift
Designed for personal or institutional usage, the patient lift allows transfers to be done safely.
Patient lifts can be fixed onto rails or can be moved around on wheels. This ingenious tool helps prevent falls and injuries, for the caregiver as much as for the disabled person.
Other Equipment
Many more tools are available to help accessibility to public places, commercial as much as residential.
Aluminum ramps allow access to various places and can be portable or permanent. Aluminum, being lightweight, makes portable ramps easy to carry.
Showers without thresholds, bathtubs with doors, grab bars, and bathtub lifts are only a few tools, among many others, that can be used to help adapt a bathroom according to the needs of a person with reduced mobility.
Find the Ideal Solution
Contact Elevaction to discuss your options. You'll discover a dedicated, humane, and competent team. The co-owner, Lyne Parent, has been moving around in a wheelchair since 2001. If she is the heart of the company, her motto, "Free, at home," is the engine.