Automatic Door Openers, The Perfect Solution for Your Entryway
Published November 7, 2020
/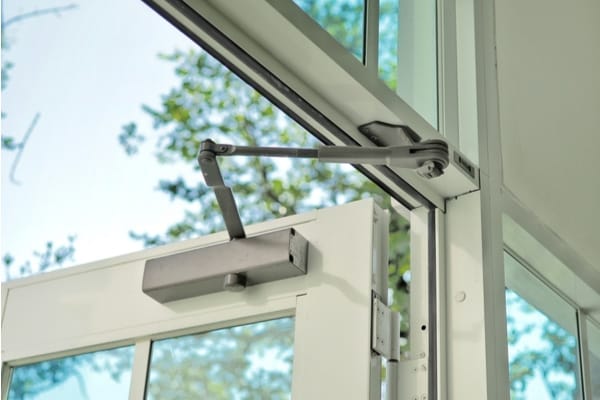 Accessibility to public places should be a priority for any store or business owner. Older ones and those with limited mobility are incredibly grateful for such efforts.
In Québec, automatic door openers are now mandatory in all new construction for public offices to make our cities more accessible to all.
What Is an Automatic Door Opener?
As the name suggests, an automatic door opener opens doors. There are several models for different types of doors. Many have a variety of finishing options, as well as extra features.
Doors that are equipped with automatic door openers can still be opened manually, in addition to automatically. Specific models carry a battery for continuous power, even in the event of a power outage. Some models come with a remote for more significant functions.
What Are the Advantages of Having an Automatic Door Opener?
Whether it is for a private residence or commercial building, an automatic door opener has many advantages.
Accessibility. Automatic door openers are a useful tool in facilitating easy access for all to your building. Whether a person is a wheelchair user, a mother with a baby in her arms or a man delivering an armful of packages, everyone can appreciate an automatic door opener.
Affordable. An automatic door opener for an entrance retails for less than $2000, including installation. It is a good investment in providing accessibility.
Durable. At Élévaction, all of our door openers are durable for long term use. No maintenance is required.
Simple installation. Automatic door openers are installed in just half a day. Our mechanics are professional and highly qualified. Moreover, we provide a certificate of compliance with RBC once the installation is complete.
Which Models of Automatic Door Openers are Available at Élévaction?
At Élévaction, we offer four models of reliable, durable and efficient door openers.
Assa-Abloy. This is our most popular model! It allows for the maximum opening range while taking up minimal space. It is efficient for indoor and exterior doors and suitable for both residential and commercial use.
Stanley.  This model is for commercial use, efficient in any environment, whether for a small retail boutique or a large industrial building.
Hunter. This is the best option for price point on the market. The system is silent. A residential and commercial model, Hunter, is a very popular option among commercial and public buildings.
Atlas. This is a versatile residential model. It has the option of the remote feature. It is ideal for doors equipped with weather strips, as it has motorized opening and closing modes. It can be installed on almost any type of door, exterior or interior. It also works well with our elevators.
Contact us for more detailed information on each model.  
Is There an Option for Financial Assistance? 
The Program for Adaptation of Residences (PAD, Programme d'adaptation de domicile) offers subsidies for those with reduced mobility. Automatic door openers qualify for this subsidy. For more details on the program, consult the PAD Application Guide.
The co-owner of Élévaction, Lyne Parent, has been on the receiving end of this program and knows it well. The Élévaction team is more than happy to help you with your application.
Automatic Door Openers…A Step Towards Universal Accessibility.
Installing an automatic door opener may feel like a small thing, but it means the world to those who need it. Your building will be welcoming and inclusive of all.
Élévaction offers a wide variety of mobility solutions, residential or commercial, for a clear entryway.
Try an automatic door opener; you'll love it!