The Chairlift, a Solution to Help Elderly People's Mobility
Published July 15, 2020
/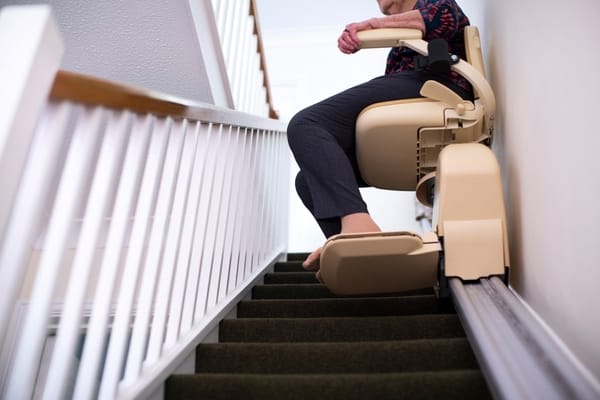 For the elderly population, being autonomous at home is of capital importance. Keeping one's independence is beneficial for physical health as much as for mental health.
While wanting to help our dear elderly people keep their autonomy, we need to ensure their safety. It goes without saying that the staircase is a strategic area in any multi-story house, and that falls often happen there. How do we solve this problem?
The chairlift is an unmatched tool to help with reduced mobility. How does it work, and what model types are available?
The Chairlift
A chairlift is a tool that can adapt to any type of staircase. It is discrete and practical, and it allows people with mobility loss to move easily from one story to another in their residence. In short, it's composed of a chair on a rail. The rail is attached to the staircase wall or ramp, and the chair is activated with a simple button.
The chairlift is safe and aesthetically pleasing, and there are models available for both residential and commercial purposes. They are sturdy, affordable, easy to install, and adapted to your space.
Our Models
Everything is possible when it comes to chairlifts. High-end models are custom-made and can adapt to any type of decor and staircase.
Your house has a curved, very inclined, or very peculiar staircase. Our team of experts has specialized equipment to design an adapted device for your space.
You want a chair that will perfectly match your decor. Our deluxe model offers a variety of colours, textures, edges, and more. You tell us what you want, and we create it for you.
Our standard model, offering the best value for money, comes in a variety of colours. We can even create a seat cover that blends with your decor.
The armrest and footrest on all our models can be folded up to free some space in the staircase. Apart from the entry-level model, the seats can be folded up to free more space, and many options are available to customize each chair.
On the business model, the seat is smaller since it cannot be folded up. It is offered in one single colour, without any add-on options. However, just as the high-end models, it is silent and has a lifetime warranty on parts that make up the motor, as well as on its sturdiness and material quality.
Installation
The chairlift installation takes from five to eight hours, depending on the model. Our certified technicians are highly qualified to proceed to the installation of your chair. With Élévaction, you'll benefit from fast, customized, and impeccable service.
Keep Your Autonomy
A chairlift is the ideal solution to avoid falls and eases movement between stories, safely. No matter your age or your situation, the chairlift is a tool made to help you stay free at home.