How to Choose the Right Care for Your Aging Parents
Published August 6, 2020
/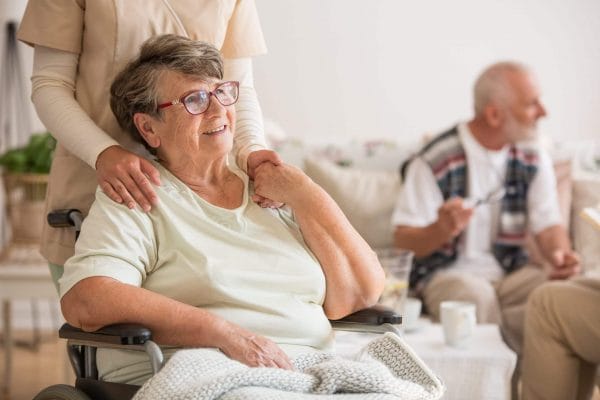 Choose the Right Care for Your Aging Parents: Nursing Home, CHSLD, or Home-Support Services
There comes a time when hard decisions need to be made. If your parents are beginning to lose their autonomy, you would perhaps like them to stay at home, but you wonder if living in a nursing home or a CHSLD would be a better option.
Every situation is unique and there is no right or wrong answer. Here's an overview of the options available. Discuss these options with your parents and family members in order to find  the best solution that suits their needs.
Nursing Home – Surrounded by a Team in a Safe Environment
Nursing homes for senior citizens hold many advantages. Activities are planned, and residents have the opportunity to meet new people. Care services are available on-site, and some residences have amenities like a pool or movie theatre within the same building.
Some residences are progressive, meaning that they offer services and lodging that adapt as the person's condition evolves.
Despite these advantages, many seniors feel abandoned and are somewhat lost when they end up in residence.
CHSLD – Enhanced and Personalized Care
CHSLD's, or residential long-term care facilities, are specialized in taking care of people with a condition that requires constant surveillance, and for whom home support is no longer safe.
These facilities offer hygienic and medical care, along with many activities that are suitable for the residents' condition.
Home Support Services– Quality of Life at Home
It's good to prioritize home support, as long as the environment is safe and quality of life is preserved. Seniors are comfortable, feel safe, and thrive in their regular living environment. Many programs, services, and tools are available to help with home care.
The Financial Assistance Program for Domestic Help Services helps you benefit from a lower hourly rate for services like housekeeping, meal preparation, and more.
CLSCs offer many free services, such as bathing assistance.
Various tools and devices help maintain autonomy at home, like the stairlift, the platform lift, overhead lifts, bath seats, and threshold-free showers. Government funding is available for home adjustments.
Tax credit for home support services for seniors equals 35% of expenses paid over the year for eligible home support services.
Help and cooperation from family members are very precious when a senior decides to stay home. It is important to contact them regularly and to be available to do various tasks and maintenance on the house and land.
Analyze your situation to find the best solution
As mentioned at the beginning of this article, every situation is different. It is each one's job to analyze what the best solution is, according to their situation.
The most important thing is that the senior is well surrounded, safe, and has a good quality of life. Our seniors are the foundation of our society. They have given so much; it is our turn to give back by ensuring that they are safe, loved, and happy.