Platform Lifts – The Ideal Solution to Access Your Home and Business with Ease
Published October 11, 2020
/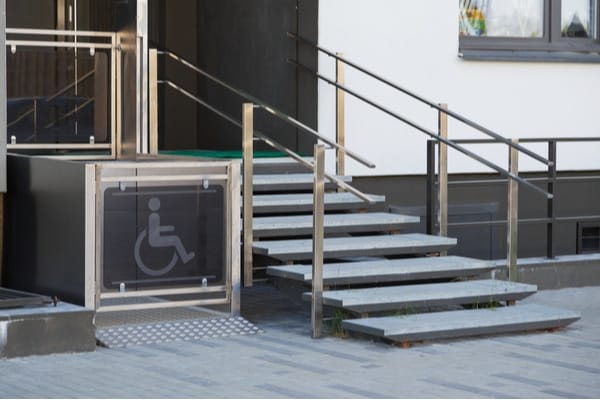 Access to primary levels of your home or commercial buildings are among the first obstacles that those with limited mobility, especially those who rely on wheelchairs, face. When the entrance is narrow or too steep, a platform lift is an ideal solution. Here are other added benefits of owning a platform lift:
They Take Up Little Space

When the main doors are slightly higher than the entrance path, owners generally tend to install access ramps. However, if the incline is too steep, a ramp can become problematic for those with limited mobility. The steeper the slope, the longer the ramp, requiring a more extensive installation area. In situations such as this, a platform lift is a great alternative.
Platform lifts are solid and compact, requiring very little space. They can take up as little as 34″ in width and 54″ in length, depending on which model you choose.
They're Manufactured in Québec for Our Specific Climate
Our platform lifts are manufactured locally in Québec, with our specific climate in mind. Élévaction's platform lifts withstand snow, ice rain, and extreme temperatures. Even the control panel is weather-proof.
They're Safe & Well Built

Our platform lifts are manufactured using sturdy, quality materials. Motion is flawless as our platform lifts work on a worm screw principle; reducing both vibrations and noise during use.
User safety is our primary focus. All of our models come equipped with a safety system that includes an emergency stop button, obstacle sensors, and manual descent control.
They Can Be Installed Indoors

While most platform lifts are installed for outdoor use, there are models specifically for interior use, even with stairwells. These platforms allow those with reduced mobility to access all levels of a building, without the costly installation of an elevator.
In contrast to a chair lift, the platform lift allows a person to access multiple levels without leaving their wheelchair. When the lift is not in use, it conveniently folds up, leaving the stairwell clear for others to use.
They Can Be Rented for Temporary Use

Have you have suffered an injury due to an accident or have become temporarily reliant on a wheelchair? Are you organizing or hosting an event that will include those with limited mobility in attendance? Mobile platform lifts are your go-to solution. These lifts can be purchased or rented, according to your needs. Portable platform lifts require a GFCI power outlet and a stable, up-to-date, grounded current. Our mobile platform lift is easy to use and easy to store when it is not in use.
They're Installed According to Rigid Safety and Quality Standards
Installation of our platform lifts take one or two days, depending on the model you choose. All Élévaction mechanics are CCQ certified. We are accredited by the SHQ, the SAAQ, the CNESST. The Veterans Program also accredits us in upholding the highest standards of installation, maintenance and repair when it comes to all mobility aid products. Once your platform lift is installed, we will provide an RBQ certificate of conformity.
Grants to Help Finance Your Purchase

The HAP (Housing Adaptation Program) offers grants of up to $16 000, and sometimes more, to help bridge the gap between those with reduced mobility and general accessibility.
Feel free to contact us if you have any questions. Our co-owner, Lyne Parent, is a beneficiary of this program and is very familiar with the process.
You Deserve Unlimited Access

Platform lifts provide an excellent solution for allowing unlimited access to your home or business. They are the first step in creating a world that is accessible to all.